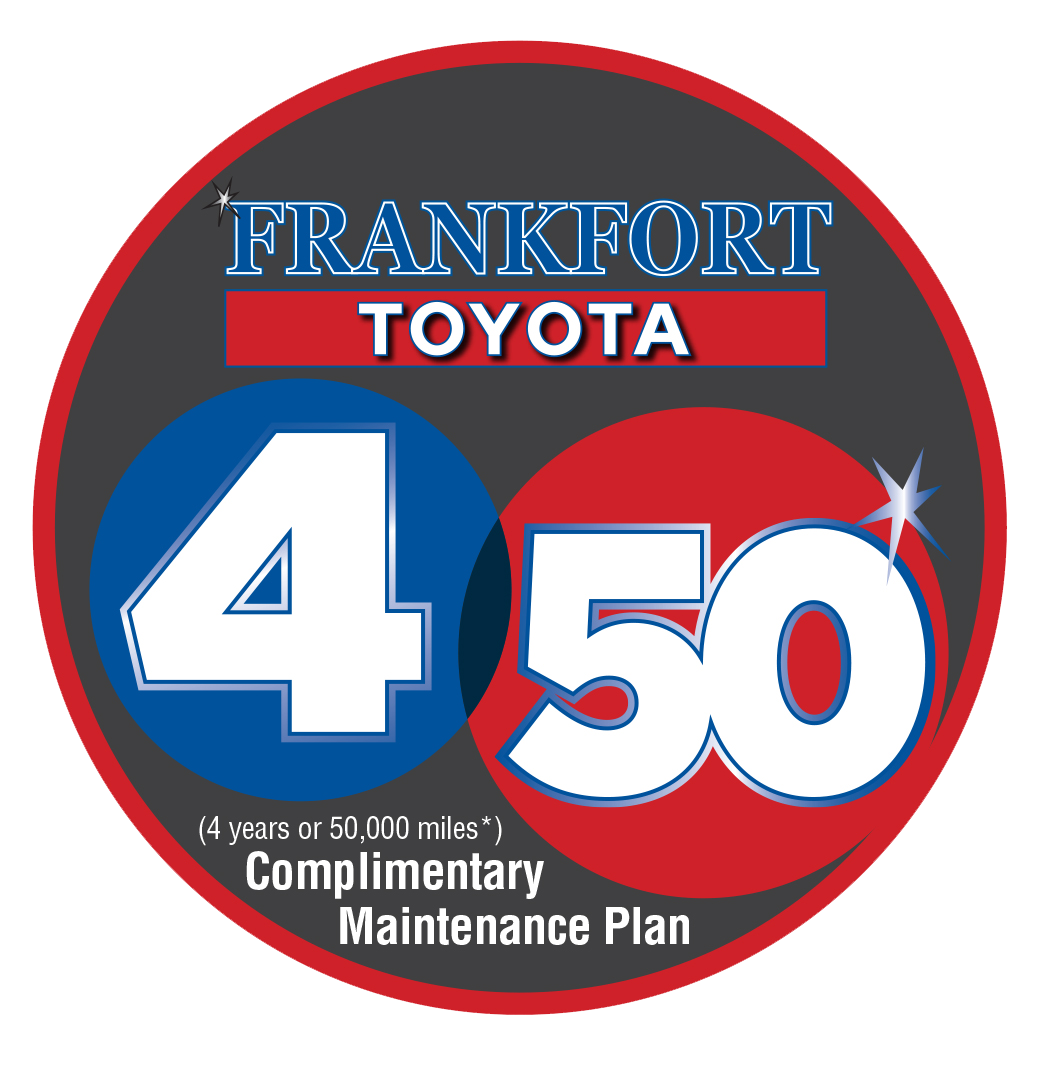 Frankfort Toyota is proud to release the new Frankfort 450 plan. This new program will double ToyotaCare with complimentary maintenance totaling 4 years, or 50,000 miles, whichever comes first. The program is an added benefit for customers that purchase a new vehicle from Frankfort Toyota.
Right now, Toyota offers all dealerships ToyotaCare, which is a complimentary maintenance package that covers customers for 2 years or 25,000 miles, whichever comes first, as well as the addition to 24-hour Roadside Assistance. The 24-hour Roadside Assistance is covered for two years from the effective date and covers unlimited miles. To get more information on the ToyotaCare program, you can find out more here. With Frankfort Toyota adding this new program, they are doubling ToyotaCare maintenance plan for their customers for an additional 2 years or 25,000 miles, totaling the program to 4 years or 50,000 miles.
There were a few things that Frankfort Toyota wanted to make sure their customers understand about the Frankfort 450 program. The Frankfort 450 program is an extension of the already excising ToyotCare. Customers will get their 2 years of complimentary maintenance as well as the Roadside Assistance from ToyotaCare, then after the two years is up, the Frankfort 450 program kicks in and doubles the complimentary maintenance plan totaling the maintenance to 4 years or 50,000 miles. After the first two years, the Roadside Assistance plan will no longer be available.
The Managing Partner at Frankfort Toyota, Erick Clark said, "We know how difficult it can be to buy a new car and have to deal with maintenance. Now with the Frankfort 450 plan, we can make sure that our customers are taken care of. Not only do customers get ToyotaCare, but with our new program, our customers will now be covered for the first four years or 50,000 miles."
The Frankfort 450 plan covers oil changes; tire rotations, inspection and adjustments of all fluid levels, and a multi-point inspection. This program does not include the 2-year, 24-hour Roadside Assistance that is offered with ToyotaCare. Be sure to schedule your appointment today!

About Frankfort Toyota
Frankfort Toyota is more than a dealership. Frankfort Toyota is an award-winning team who understands that your car-buying experience should be hassle free. The goal is to make your online browsing experience as seamless as possible, which is why we provide detailed information on all of our available models directly on the website.