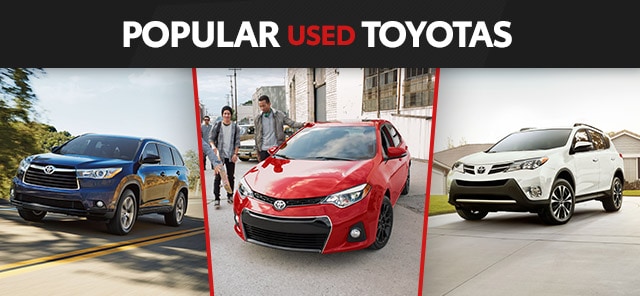 People around the world know about Toyota's reputation for engineering vehicles that are reliable, long-lasting, and safe. It is natural, then, that Toyota holds some of the highest inspection standards for certified pre-owned vehicles across all manufacturers. When a customer buys a certified pre-owned Toyota, they can be confident in their purchase, knowing that it has passed Toyota's rigorous 160-point Quality Assurance Inspection.
Buying a used Toyota is the definition of a safe bet. These are just a few of the immensely popular models available now on the pre-owned market:
2015 Toyota Camry
The Camry is one of the world's most popular cars, known for its safety, longevity, and performance. The 2015 Toyota Camry lives up to its predecessors' reputation, boasting a 2.5-liter four-cylinder engine and a six-speed automatic transmission, which together produce 178 horsepower while running at an efficient 28 mpg combined.* Top-of-the-line safety comes standard: dual front and dual rear side-mounted airbags, four-wheel ABS brakes, child safety locks, daytime running lights, stability control, emergency braking control, and traction control make the 2015 Toyota Camry one of the safest cars on the road.
2015 Toyota RAV4
The RAV4 offers a comfortable, reliable all-terrain experience and is a favorite amongst high-cargo drivers. For 2015, the Toyota RAV4 comfortably seats five without impinging on the massive 38.4 cubic feet of cargo volume; with the rear seats folded down, cargo space balloons to 73.4 cubic feet (not to mention the exterior cargo capacity made available by the standard roof rack cross bars. Its four-wheel independent suspension, front and rear stabilizer bar, and all-wheel drive capabilities handle whatever the road offers.
2015 Toyota Corolla
The Toyota Corolla is a smooth, fuel-efficient, and comfortable sedan that is perfectly suited to city drivers and small families. The 2015 Corolla offers above-average performance in its 1.8-liter four-cylinder engine and continuously-variable transmission without sacrificing its superior fuel efficiency (32 mpg combined).*
2015 Toyota Highlander
The Highlander is an SUV engineered for adventure. Its 3.5-liter V6 engine packs a ton of punch, producing 270 horsepower and 248 lb-ft of torque with a responsive six-speed automatic transmission. Featuring all-wheel drive with Descent Control, mudguards, a towing receiver hitch with wire harness, and loads of cargo capacity (83.2 cubic feet), the 2015 Toyota Highlander can easily pack up and see what's out there.
For these and other popular used Toyota models, come and look through our inventory at Frankfort Toyota.
*EPA estimated. Actual mileage may vary.